Voss manufactures a complete line of hand tools used in manufacturing radiator cores.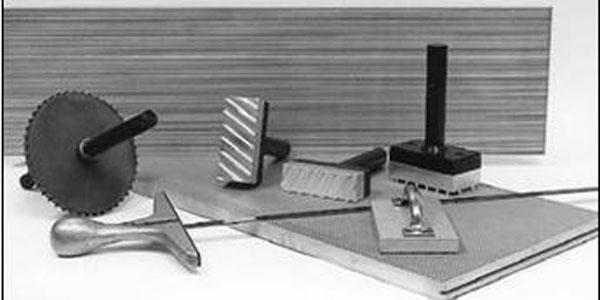 Line-up-Bars, Swords, Header Press-on Tools, Tube Flare Tools, Fin Combs, all used in the manufacturing of Industrial Radiator Cores
Hand Tools
Fin Combs

These are used both prior to and after the core is baked to ensure the fins are straight and spaced correctly after assembly. This is the final touch on the core to make the fins look exactly spaced and straight.
They are made from aluminum blocks, machined to the FPI required. A comfortable handle is attached for easy operation.

Line up Bars

These are the first tools used in assembly. The line up bar is pushed through the first tube slot, aligning all the fins so a tube can be pushed. A necessity for building tube and fin cores.
They are made from spring steel, and sized to your tube slot so alignment can be achieved.

 

Tube Pushing Swords

These are used for pushing the tube into the core assembly. This is an important tool used by the operator. Sized for your tube, and with a comfortable handle, they are easy to use.
They are made up of an aluminum handle and a spring steel sword blade sized for your tube.  available in lengths from 300mm (12") to 2m (72").

Header Press on Tools

These are used to press the header plate onto the core assembly. They come in a set of three, small, medium, and large.  Machined to match your tube pattern, and end of tube to header plate dimension, to ensure consistent assembly of the header.
They are made from aluminum, with a steel handle. The operator puts them onto the header plate and pounds them down until the tube hits bottom.  Setting the header plate to the proper distance from the tube end.

Tube Flare Tool

A roller that is designed to roll over the tube ends and flare out the tube a little. The operator simply sets the tool onto the tube, and rolls it across the core while pushing downwards, this flares the end of each tube.
They are made from hardened tool steel, machined exactly to your tube size and pitch.  The steel handle is mounted into the roller bushing for ease of operation.
Available in two sizes; 3" and 6" base diameter.