Voss offers high quality fabricated parts through the use of modern and innovated technology and equipment with a highly skilled versatile staff.  We are able to provide solutions for one of a kind prototypes to high production runs with our vast manufacturing capabilities and expertise.
Material Cutting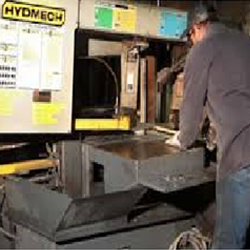 At Voss we offer multiple machines to cut material to a specified length.  For all bar stock we utilize programmable automatic scissor style band saws that feature a swing head design.  These saws provide exceptional miter cutting capabilities and can cut round stock, square stock, or rectangular stock.  For simple sheet metal that doesn't require tight tolerances, cutouts of profiles we can utilize our power shear.
Key attributes:  
Cut up to 13" diameter round stock or 13" H x 18" W rectangular stock
Steel – cut up to ¼" thick x 10'
Aluminum – cut up to ¼" thick x 10'
Stainless Steel – cut up to 5/32" x 10'
Punching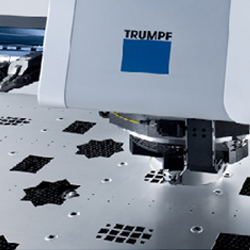 Voss is your choice for all your sheet metal job needs.  With our turret CNC 25T punch press we offer a versatile and cost-effective machine that can accomplish many tasks.  With our vast list of tooling we are able to create simple formed features such as cutouts, dimples and louvers along with providing a scratch-free part.  We typically punch materials such as; cold rolled or hot rolled steel, stainless steel, aluminum, brass, and copper.  With the programmable feature of part nesting which allows maximum material utilization, our CNC punch press is perfect for your small or high volume parts.
Key attributes:  
Punch up to 3/16" steel
Punch up to 1/16" stainless steel
Punch up to 1/4" aluminum
Can handle sheet sizes up to 48" x 144"
Tube Laser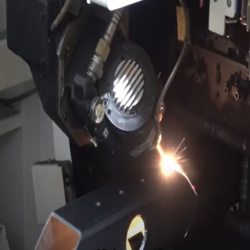 A tube laser allows us to cut metal (steel, stainless steel and aluminum) on a multi-axis basis where the material is rotated by a large chuck and the laser cuts all the necessary holes, cutouts, or profiles faster and more accurately than standard fabricating processes.  The tube laser can be tooled up to cut all tubes (square, rectangle, and round), channel, I-beam, flat stock, and angle iron.  A tube laser has many advantages including; quality, speed, efficiency, repeatability, versatility, and high volume manufacturing.  Voss' tube laser capabilities also include; etching, software for tab and unbending as well as tapping all cut components.
Key attributes:  
Square tube up to 6"
Rectangle tube up to 8" x 3"
Round tube as small as .875" and up to 8"
Tap sizes – #4-40 to ½"-13
Laser cutting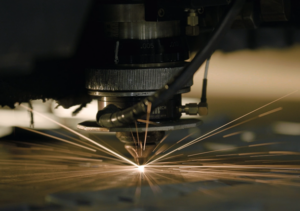 Voss's flat laser machine allows for more complex shapes and profiles of sheet metal parts along with smaller diameter holes, more precise parts and a higher quality edge.  With a large table and dual pallets our operator is able to unload parts and reload material on one pallet while the laser continues to cut on the other thus increasing our throughput and efficiency.  The versatility of the laser allows us to cut material thin and thick materials such as shim stock, steel, aluminum, and stainless steel.  As with our CNC punch press the programmable feature of part nesting allows maximum material utilization, thus making our laser perfect for small or high volume parts.
Key attributes:  
Tolerance held = +/- .005"
Table size = 5' x 10'
Cut as thin as .002" shim stock
Cut up to 5/8" steel
Cut up to 1/4″ aluminum
Cut up to 1/4" stainless steel
Forming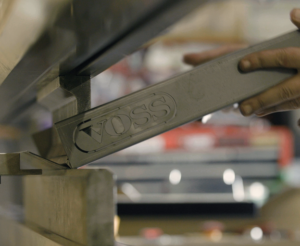 Voss has the capability to bend and form your sheet metal parts by bending or rolling at a required angle or forming a desired shape.  With two CNC press brakes and highly knowledgeable and experienced brake operators we are able to form and bend simple to complex high-quality steel, aluminum or stainless steel parts.  The standard maximum material thickness is roughly 1/4″ but depending on the bend angle and length we do have the capability to bend thicker materials.
Key attributes:  
(2) CNC Press Brakes – (1) 8' – 80 ton and (1) 10" – 135 ton
Maximum material thickness is roughly 1/4″
Stamping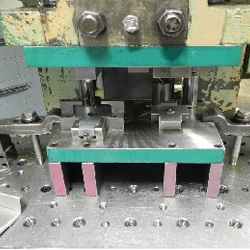 With tool and die makers and designers in house Voss is your preferred choice for your stamping needs.  Voss is set-up for small runs to large scale productions with punch presses ranging from 18 tons to 110 tons and running speeds ranging from 10 – 300 strokes per minute.  With servo feeders, air feeders and air cushions Voss is also able to deep draw on top of standard stamping processes.  Voss can simply manufacture your parts with supplied tooling or we can design, manufacture and build the required custom tooling on site.
Welding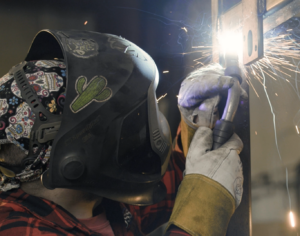 Voss is able to weld simple fabrications to challenging complex assemblies with certified and experienced welders.  Our highly skilled welders are able to produce high quality work that is aesthetically pleasing through the use of MIG, TIG, soldering and orbital methods.  With a team of stainless steel welding experts we are capable to weld products for the semi-conductor, dairy and sanitary industries.
Key attributes:  
Current certifications held.
AWS B2.1
AWS D1.1
AWSD1.3
AWS D1.6
Stud Welding
ASME IX
Stainless Steel Welding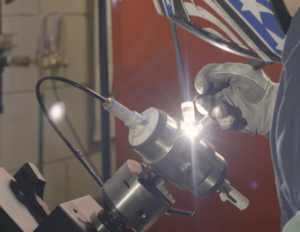 Voss is capable of satisfying all your stainless steel welding needs with a team of stainless steel welding experts along with the use of multiple orbital welding machines.  Voss is adept to orbital weld most diameters and wall thicknesses.  Voss is also tooled up to do full penetration purge welding and full consumption purge welding.  Voss also has the ability to trim and face all tubing for preparation for welding.
Key attributes:  
Orbital welding diameters = 1/4″ – 6" OD
Orbital welding thickness = .020" – .125" wall
Trim and face diameters = 1 ½", 2", 3", 4" and 6" OD tubing