Voss offers finishing processes for your customized parts to help improve aesthetics, rust and corrosion resistance, wear resistance, hardness or to remove burrs and other surface flaws.  We are able to provide solutions from one of a kind prototypes to high production runs with our vast manufacturing capabilities and expertise. 
Powder Coating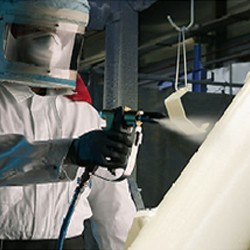 Some of the benefits to powder coating include; more durable and longer-lasting finish, less maintenance, environmentally safe finishing process and provides a more even finish surface (horizontal and vertical surfaces) because the powder is sprayed and heated across without drips or application traces.  
Wet Painting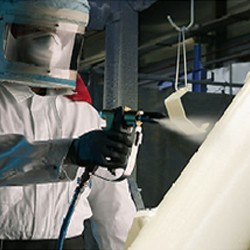 Voss offers wet painting capabilities for all your customized parts.  Voss's wet paint system and bake oven with a DeVilbiss down draft can accommodate small to large parts with a booth size of 14' W x 24' L x 9' H.  Wet paint is a good alternative for powder coating, especially for products that can't be heated to a very high temperature.  Some other advantages of wet painting include; more economic especially for small parts/orders, thinner finish (minimum layer thickness is possible) and a wider range of colors. 
Sand/Bead Blasting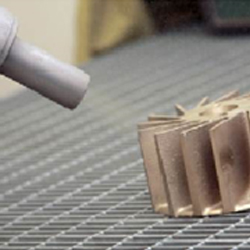 If your application calls for abrasive blasting, Voss offers both sandblasting and bead blasting capabilities.  Whether you are looking to remove unnecessary rust, paint, contaminants or other surface imperfections, smooth a rough surface, rough a smooth surface, shape a surface or for aesthetic purposes Voss is capable of fulfilling your needs for parts up to a maximum size of 40" L x 19" W x 15" H. 
Heat Treating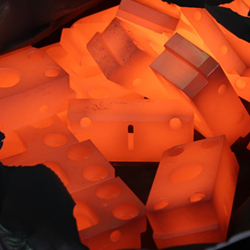 Voss utilizes multiple furnaces for hardening, annealing or stress relieving of materials in the manufacturing process for parts up to a maximum size of 36" L x 11" W x 11" H.  Through the process of hardening we are able to improve mechanical properties such as tensile and yield strength.  Annealing allows us to soften or regenerate overheated steel and or remove internal tensions.  Stress relieving allows us to relieve the residual stresses of the steel or weldments.  One of our furnaces is also an atmospherically controlled nitrogen purged oven which purges the oven of oxygen and forces out all moisture and contamination-laden air creating a non-reactive atmosphere which allows for a scale free surface on the part (or minimizing the scale on the surface of the part).