1967
Founding: Karl Voss started Voss Tool & Die in the garage of his family home in Wheatfield, NY along with a handful of his trusted colleagues from previous years.
1970
Relocation:
Voss Tool & Die gained trust from many local customers and quickly outgrew Karl's garage.  Karl acquired a building on 20+ acres of land at 2345 Lockport Road in Sanborn, NY which is still to this day the home of Voss Manufacturing.  This move opened many doors by providing more space to leap on opportunities and grow the business.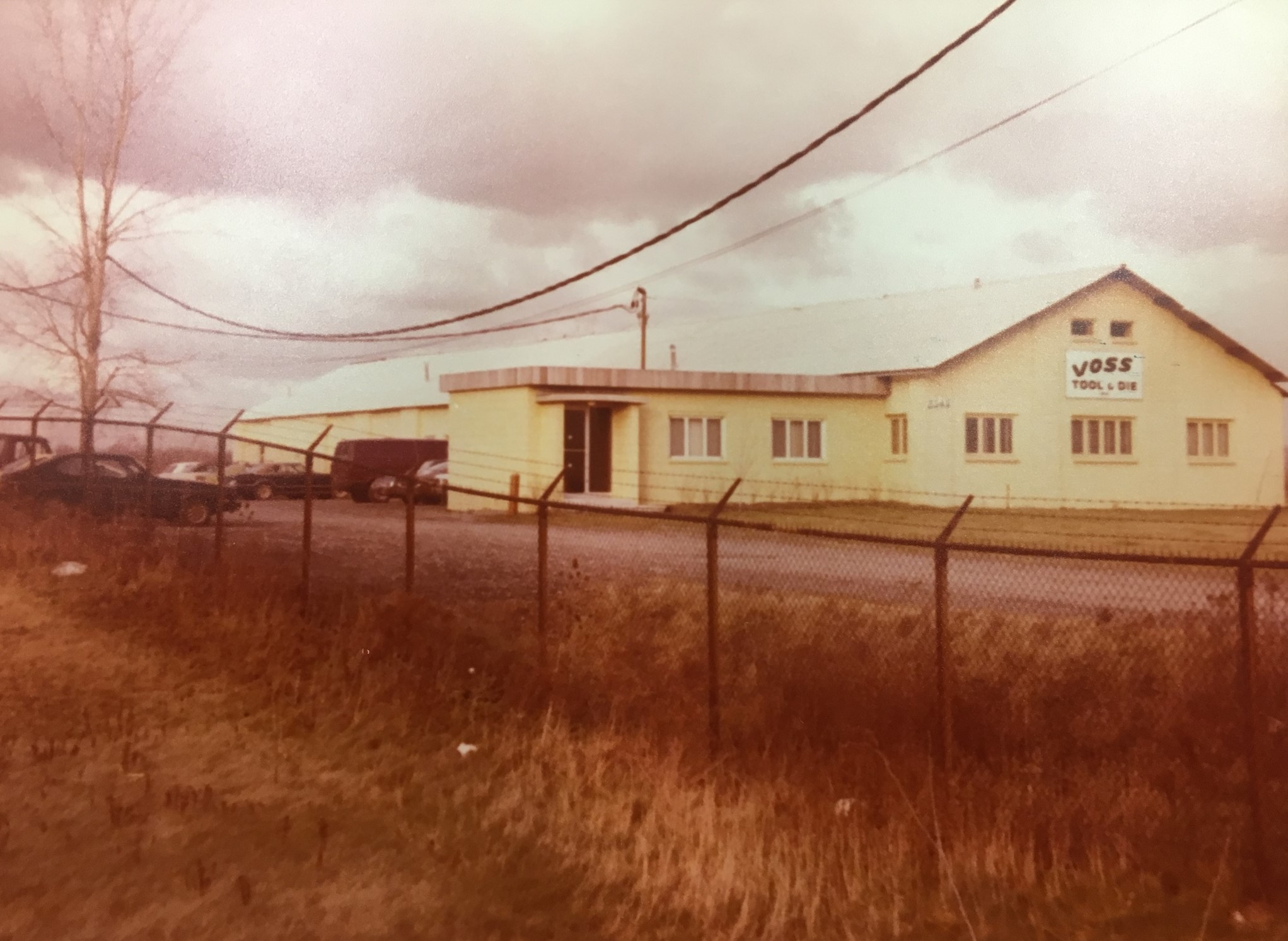 1971
Building a Vision:
Karl Voss envisioned the future of his company as a full-service manufacturer.  In doing so, the company needed room to grow.  Over the span of the next 15 years, into 1986, the facility experienced 13 expansions to flex to the growing demands of the business.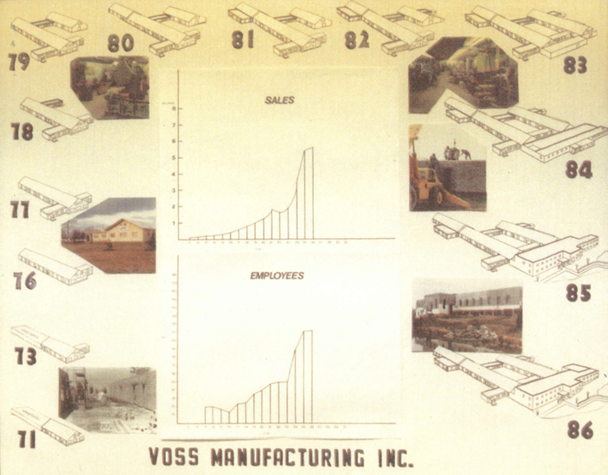 1974
"The rest is history":
A key customer approached Karl Voss and his team to build a special machine that would stamp ultra-thin metal coil into fins to be used in the construction of heat exchangers.  The Voss Fin Machine was developed, which became what is known today as the FM-135.  This established the Heat Transfer business unit, and as the story goes, the rest is history.
1977
Worldwide reputation:
Due to the unique and unparalleled quality, reliability, and performance of the Voss Fin Machine, Voss began receiving demand for their machines beyond American soils.  The first international sale to a customer in Canada opened the doors to exporting Voss machines.  To date, over 50% of Voss machines are exported overseas, finding homes in 40+ countries in all corners of the world.
1982
Re-branding:
While continuing to grow relationships with existing customers along with acquiring new customers, Voss expanded its offering that spanned beyond just tool & die work.  Customers developed growing trust and reliance on Voss in increasingly complex solutions in machining and fabricating.  To support this demand and keep up with the latest technology available, Voss purchased their first CNC Lathe. To reflect the enhanced scope of capabilities that Voss could offer Voss Tool & Die officially became Voss Manufacturing.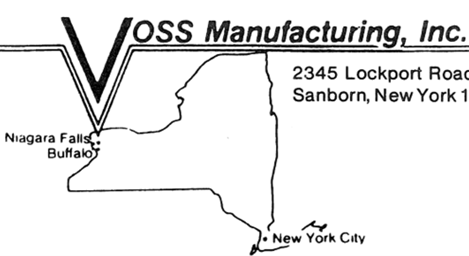 1984
The one-stop-shop:
Through manufacturing Voss Fin Machines, Voss developed the capability to do complete machine builds in-house.  Historically, Voss outsourced engineering and electrical work on machine build projects but chose to bring this in-house.  Having this capability, Voss was able to begin providing this service to other customers to offer complete machine builds of their machinery.  In cooperation with a key customer, Voss performed their first full machine build in-house for a specialty paper printing/handling machine.  This was the first of kind project where Voss conducted all design, manufacturing, and electro-mechanical assembly in-house, establishing Voss as a premier one-stop-shop.
1988
Second generation:
Karl Voss passed away unexpectedly, leaving much uncertainty for the future of Voss.  Karl's daughter Rita Voss Kammerer assumed majority ownership of the company and the role as President.  Rita's husband, Tom Kammerer, took over running the daily operations as General Manager.  Tom & Rita were determined to maintain Karl's legacy and continue business as usual, operating under the fundamental values that Karl established.  Doubts about the future of Voss without Karl Voss quickly became settled as the company successfully continued on without Karl.
1997
Fabricating the way:
Customers continued to shift their manufacturing needs to partners like Voss, seeking to consolidate their subcontractors towards "one-stop-shops."  Voss began feeling the influx of more fabrication work to complement the machining side of their business and understood the need to invest in more space.  Voss added 12,000 square feet to expand the fabrication business enabling more space for wet painting, welding, material storage, and for a new horizontal boring mill.  This further enhanced Voss as a "one-stop-shop."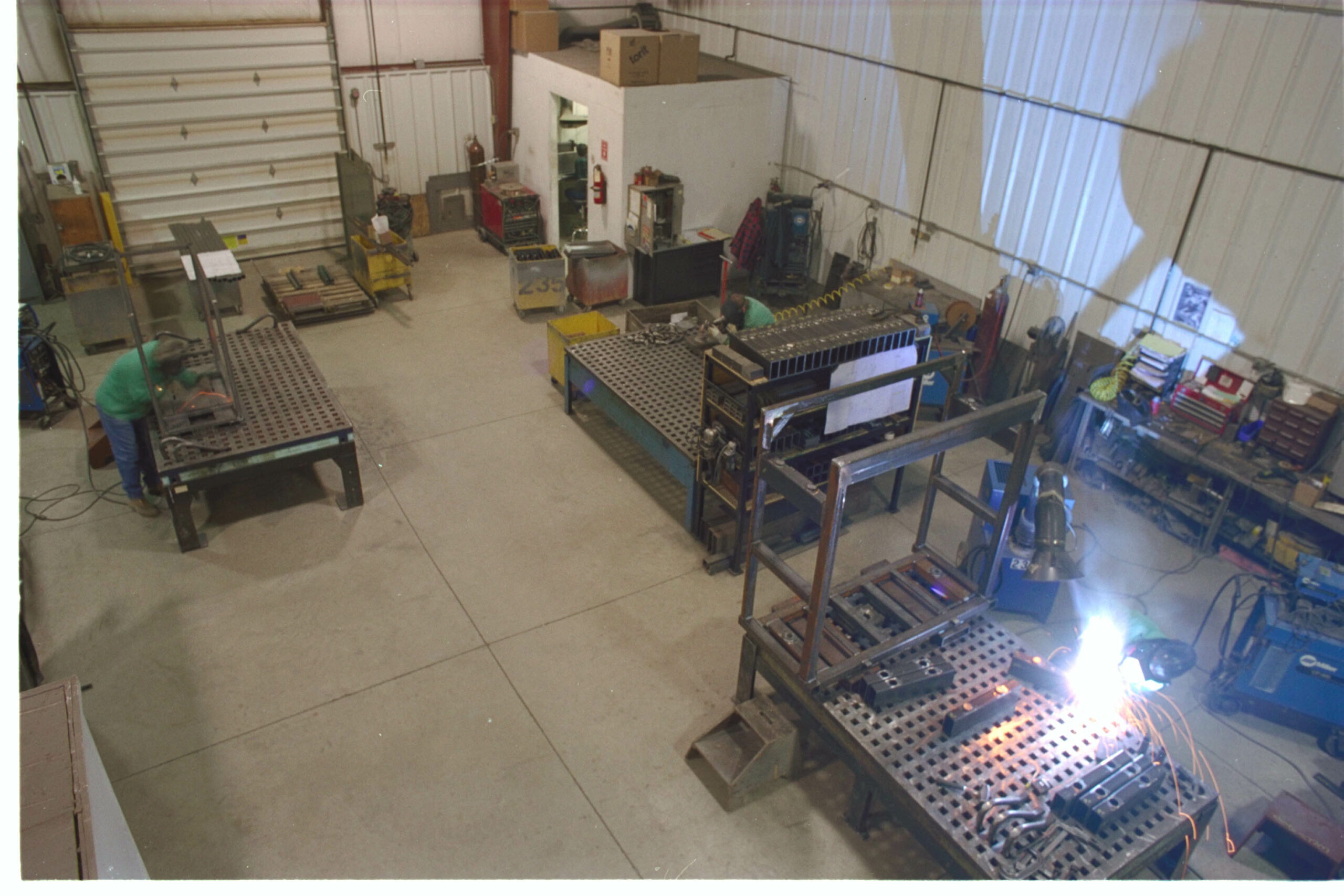 2008
Laser focus in a crisis:
In the midst of the 2007-2008 financial crisis, Voss had an unwavering vision for the future despite the crippling uncertainty in the economy at the time.  Voss leadership recognized the need to add laser cutting to the already broad scope of capabilities that Voss can offer.  To do so, 9,000 square feet was added to accommodate this new process, as well as offer additional space to flex the rest of the business around it as well.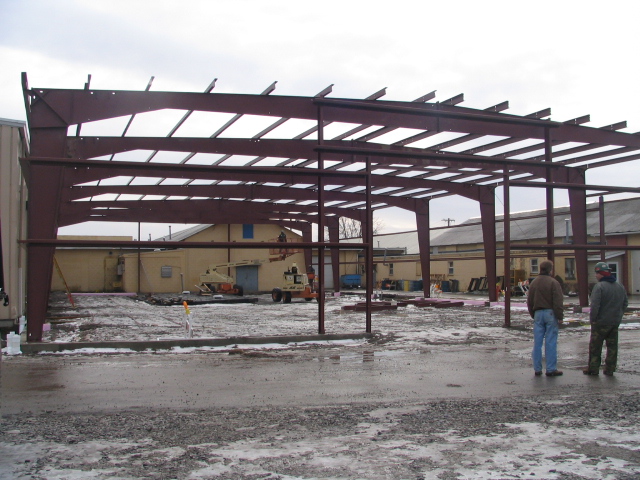 2016
Quality focus:
With Voss's continual commitment to upholding world-class quality standards in materials, processes, engineering, manufacturing, and customer service, Voss decided it was time to certify our quality management system.  To do so, Voss utilized Bureau Veritas as our registrar to gain our ISO 9001 registration.  As Voss continues to strive to achieve and surpass industry and customer standards and requirements, ISO 9001 will assist in that endeavor.
2019
Building for the future:
As Voss continued to grow over the years, the available floorspace had become fully utilized, leaving minimal flexibility to embrace new opportunities.  Voss responded and built a 26,200 square foot addition to set up the company further growth.  The addition allowed Voss to bring in tube laser cutting and powder coating processes in-house and re-organize the facility for more efficient material flow.  The addition also provided a large "showcase" machine assembly area to be able to handle larger projects.
2022
Third generation:
As the Baby-Boomer generation begins to kick back into the retirement phase of life, the second generation of the Voss team diligently grooms and develops the third generation of the Voss team.  The plan had been in process for many years prior, however strategic moves are being made in executing the plan.  The third generation of the Voss team step up into key leadership roles and begin charting the course for Voss into the future.
2023
Charting the course:
The economic conditions for manufacturing in the USA are highly advantageous with a positive outlook.  Voss begins yet again looking at evaluating capabilities to leap on the opportunities presented in the manufacturing market.  In the ripple effects of a post-COVID-19 world, challenges in the market pose obstacles that will force "outside-the-box" solutions in reinventing how Voss operates.  This, however, is where Voss thrives; providing solutions to unprecedented situations.  In maintaining Karl Voss' philosophy in investing in state-of-the-art technology and world-class talent, Voss Manufacturing gladly welcomes the opportunity to tackle the challenges ahead.